---
Food Nerd Approved dif­fers from a typ­i­cal "Best Of…" des­ig­na­tion in that it is not sim­ply an an empir­i­cal mea­sure of excel­lence, but rather it denotes on a very per­son­al lev­el the places that have cap­tured the ado­ra­tion of this com­mu­ni­ty of Phoenix-based food enthusiasts
Read from our nom­i­na­tions here.
We're hon­ored to be on this list of tru­ly amaz­ing eater­ies, amongst oth­er chefs who love their work and are proud to feed peo­ple's souls as well as their bel­lies. Thank you, Phoenix Food Army, thank you.
---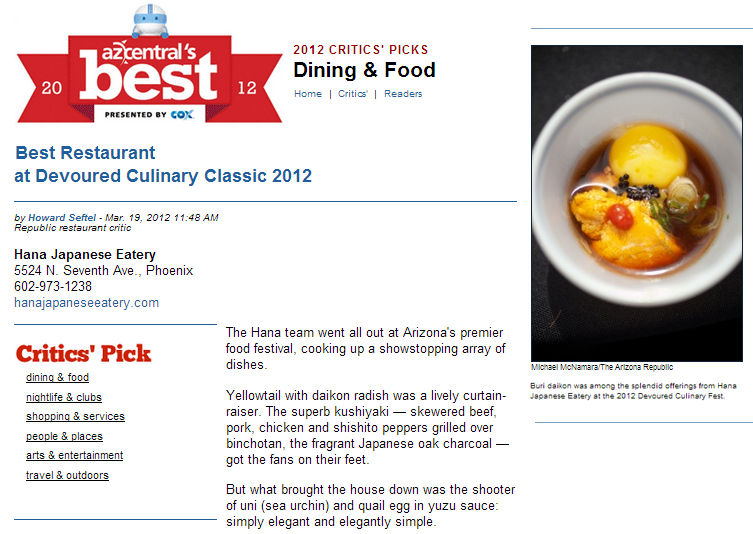 The Hana team went all out at Ari­zon­a's pre­mier food fes­ti­val, cook­ing up a show­stop­ping array of dishes.

Yel­low­tail with daikon radish was a live­ly cur­tain-rais­er. The superb kushiya­ki — skew­ered beef, pork, chick­en and shishi­to pep­pers grilled over bin­chotan, the fra­grant Japan­ese oak char­coal — got the fans on their feet.

But what brought the house down was the shoot­er of uni (sea urchin) and quail egg in yuzu sauce: sim­ply ele­gant and ele­gant­ly simple.The Hashimo­to fam­i­ly has been serv­ing some of the best sushi in Phoenix at its mid­town restau­rant since 2007. Chef Koji focus­es his work on doing what is excel­lent over what is easy, and that atten­tion to detail launch­es Hana well above aver­age Japan­ese restaurants.

Hana goes for fresh grat­ed wasabi over the pasty stuff mixed from pow­der, and flies in fish from the deep seas off Hawaii when­ev­er pos­si­ble. From shin­ing sashi­mi, to spicy bowls of ramen, to del­i­ca­cies like grilled, fat­ty yel­low­tail col­lar, every­thing tastes even bet­ter know­ing a cheer­ful Hashimo­to pre­pared or served the food.
-We LOVE being at Devoured each year. We hope you'll vis­it us again this year for more Hana craziness!
---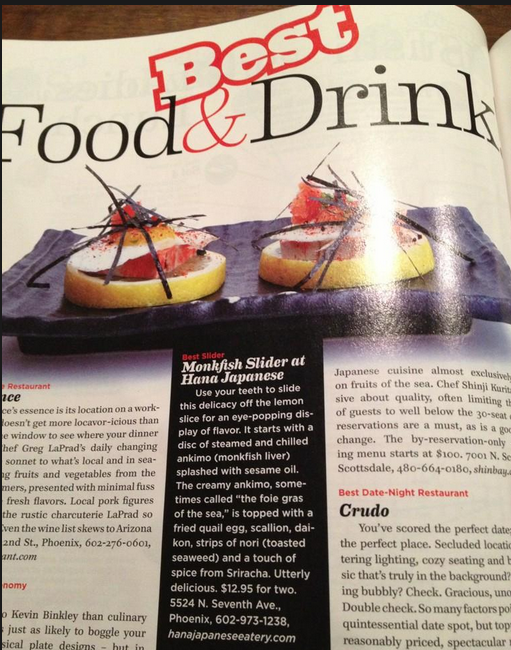 Best Slid­er
Monk­fish Slid­er at Hana Japanese
Use your teeth to slide this del­i­ca­cy off the lemon slice for an eye-pop­ping dis­play of fla­vor. It starts with a disc of steamed and chilled anki­mo (monk­fish liv­er) splashed with sesame oil. The creamy anki­mo, some­times called "the foie gras of the sea," is topped with a fried quail egg, scal­lion, daikon, strips of nori (toast­ed sea­weed) and a touch of spice from Sriracha. Utter­ly delicious.
-Thanks, Phoenix Mag­a­zine! Come back any­time and if you liked the Anki­mo Slid­er, just wait until you try this year's Uni Shot!
---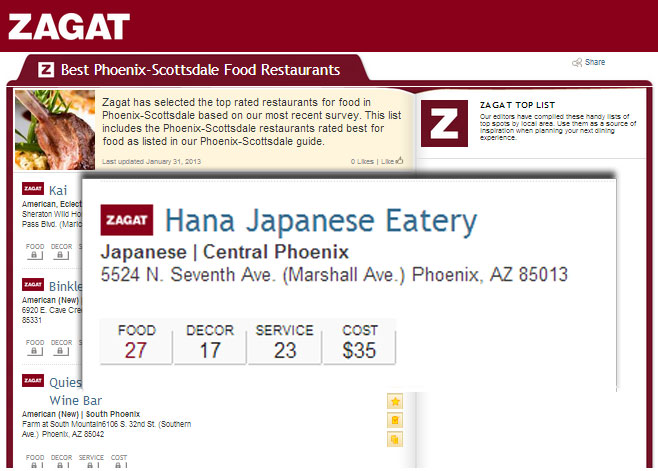 Zagat has select­ed the top rat­ed restau­rants for food in Phoenix-Scotts­dale based on our most recent sur­vey. This list includes the Phoenix-Scotts­dale restau­rants rat­ed best for food as list­ed in our Phoenix-Scotts­dale guide.
-We're always thrilled to main­tain a stel­lar Zagat rat­ing but this was a spe­cial treat. Thanks for the recog­ni­tion, Zagat! To read our Zagat reviews, click here.

---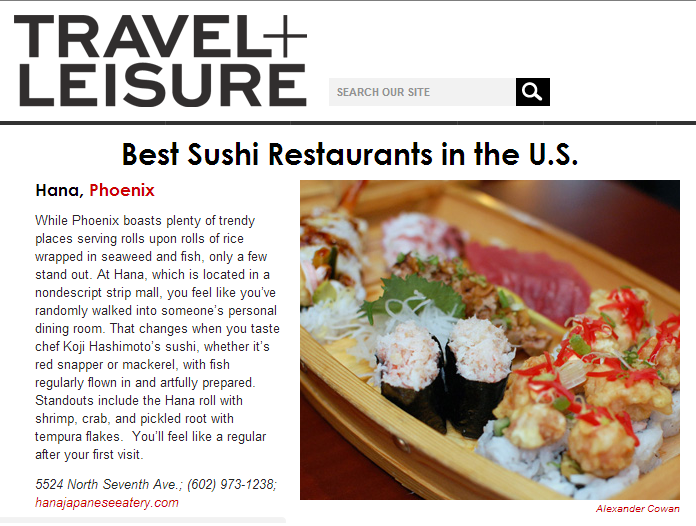 While Phoenix boasts plen­ty of trendy places serv­ing rolls upon rolls of rice wrapped in sea­weed and fish, only a few stand out. At Hana, which is locat­ed in a non­de­script strip mall, you feel like you've ran­dom­ly walked into someone's per­son­al din­ing room. That changes when you taste chef Koji Hashimoto's sushi, whether it's red snap­per or mack­er­el, with fish reg­u­lar­ly flown in and art­ful­ly pre­pared. Stand­outs include the Hana roll with shrimp, crab, and pick­led root with tem­pu­ra flakes. You'll feel like a reg­u­lar after your first visit.
-Thank you, Trav­el + Leisure!
---