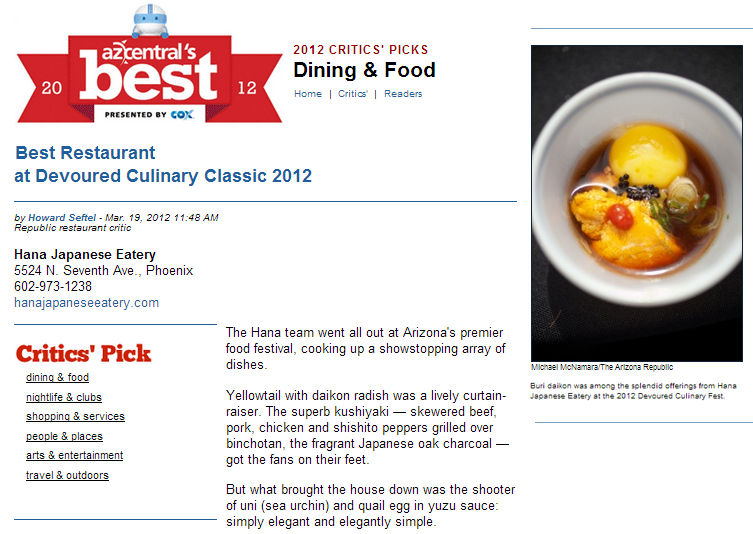 The Hana team went all out at Ari­zon­a's pre­mier food fes­ti­val, cook­ing up a show­stop­ping array of dishes.

Yel­low­tail with daikon radish was a live­ly cur­tain-rais­er. The superb kushiya­ki — skew­ered beef, pork, chick­en and shishi­to pep­pers grilled over bin­chotan, the fra­grant Japan­ese oak char­coal — got the fans on their feet.

But what brought the house down was the shoot­er of uni (sea urchin) and quail egg in yuzu sauce: sim­ply ele­gant and ele­gant­ly simple.The Hashimo­to fam­i­ly has been serv­ing some of the best sushi in Phoenix at its mid­town restau­rant since 2007. Chef Koji focus­es his work on doing what is excel­lent over what is easy, and that atten­tion to detail launch­es Hana well above aver­age Japan­ese restaurants.

Hana goes for fresh grat­ed wasabi over the pasty stuff mixed from pow­der, and flies in fish from the deep seas off Hawaii when­ev­er pos­si­ble. From shin­ing sashi­mi, to spicy bowls of ramen, to del­i­ca­cies like grilled, fat­ty yel­low­tail col­lar, every­thing tastes even bet­ter know­ing a cheer­ful Hashimo­to pre­pared or served the food.
-We LOVE being at Devoured each year. We hope you'll vis­it us again this year for more Hana craziness!